The Ultimate Depression Survival Guide
Having an effective financial and personal plan for the future is now more crucial than ever. And with The Ultimate Depression Survival Guide, readers will quickly learn how to create such a plan. This comprehensive guide was especially designed to help people map out a practical financial plan in this unpredictable economic environment, so that they can stop worrying about their money and just enjoy life. Step by step, Martin Weiss–America's Consumer Advocate for Financial Safety–introduces, explains, and helps solve many of the new challenges and risks that face millions of Americans. Throughout the book, Weiss provides readers with sound strategies for coping with the credit crunch, housing bust, and decline of the U.S. dollar. The Ultimate Depression Survival Guide also examines important topics that today's investor must be familiar with–including global investing, foreign currencies, and commodities–if they intend to make it through the decade ahead.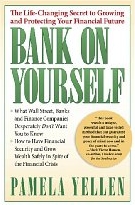 Bank On Yourself: The Life-Changing Secret to Growing and Protecting Your Financial Future
The book reveals the secrets to taking back control of your financial future that Wall Street, banks, and credit card companies don't want you to know. You'll discover how to:
– Have a rock-solid financial plan and a predictable retirement income that can last as long as you do – with no luck, skill, or guesswork required
– Turn your back on the stomach-churning twists and turns of the stock and real estate markets
– Get back every penny you pay for your cars, vacations, home repairs, business equipment, a college education, and other major purchases, so you can enjoy more of life's luxuries today without robbing your nest-egg! (The average family could increase their lifetime wealth by $500,000 to $1,000,000 or more using this method, without the risk or volatility of stocks and real estate)
– Become your own source of financing and recapture the interest you pay to banks and finance companies – reduce or eliminate the control those institutions have over you
Can you imagine what it would be like to look forward to opening your account statements because they always have good news and never any ugly surprises?
More than 100,000 Americans of all ages, incomes, and backgrounds are already using Bank On Yourself to grow a nest-egg they can predict and count on, even when stocks, real estate, and other investments tumble. You'll meet some of them and hear their stories of how Bank On Yourself has helped them reach a wide variety of short-term and long-term personal and financial goals and dreams in this book.